Why is Clinical Strength Secretagogue-Gold® one of the top selling age management supplements on the market today?
The medical background and experience of the developer of this age management product, Dr. Vincent Giampapa, has given him a greater understanding of which nutrients, the proper ratios of these nutrients, and the delivery system of those nutrients that work best to stimulate the desired response. Through years of continual practice and newly found medical research discoveries, Dr. Vincent Giampapa has formulated the most advanced and effective Age Management formula on the market today, Clinical Strength Secretagogue-Gold®.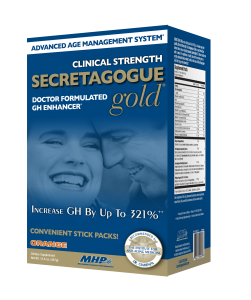 As we age, we typically experience many undesirable physical changes. These include alterations in the way our bodies metabolize and store fat, age-related loss of muscle tone, reduced energy levels, decreased sexual function, changes to the immune system and even changes in skin tone and tightness. In addition, with each passing year our production of growth hormone – also known as human growth hormone or HGH – also declines, which can also contribute to unwanted physiological changes. Fortunately, Clinical Strength Secretagogue-Gold® has been formulated to help improve natural growth hormone (GH) production, thereby supporting various physiologic functions to help slow the effects of aging and help restore youthful vigor and function.
Clinical Strength Secretagogue-Gold® was formulated by Dr. Vincent Giampapa, a world-renowned authority on Anti-Aging and Natural Hormone Modulation, as a systemic approach to age management. It is one of the most effective, natural ways to improve the aging process. It draws on advances in anti-aging medicine and age management science, combined with new medical discoveries of the body's own pre-programmed mechanisms to maintain itself in a young and healthy state.
Utilizing a scientific blend of safe, clinically proven nutrients in perfect balance, Clinical Strength Secretagogue-Gold® augments natural growth hormone release by up to 321% by supporting the body's natural physiological processes responsible for the production of HGH. It uses an advanced systemic approach, focusing on these key biomarkers of aging – stimulating the pituitary gland, inhibiting somatostatin, helping to control blood sugar levels and supporting good liver functions. Dr. Giampapa's clinically researched systemic approach is now available to you in Clinical Strength Secretagogue-Gold®, so you can look better, feel better and achieve an improved overall quality of life.
In addition to Dr. Vincent Giampapa's research working with his patients, independent research conducted using the ingredients in Secretagogue-Gold has reported improvements in the symptoms associated with age related HGH decline. People who regularly take Secretagogue-Gold have experienced some of the following benefits:
Increased muscle tone
Decrease in body fat
Increased energy, endurance and stamina
Improvement in hair quality
Improved skin elasticity and skin tone
Mood elevation
Improved sleep
Improved sex drive in both men and women
Improvement in memory and mental alertness
Improved immune function